Body of Fellows of the Institute
The body of Fellows of the institute is a distinguished, revered and respected segment of the institute whose duty and role are, inter alia, advisory in nature. The body has her own officers for her effective coordination. The incumbent National President of the Institute serves as the secretary to the Body of Fellows. At the moment, there are Twenty-one (21) members of the Body of Fellows of the Institute and the Body is headed by Professor Tola Atinmo.
During her meeting of 11th December, 2020 held at The National Hospital Abuja, the following was agreed upon by the Body of Fellows of the Institute as her major functions: 
To carry out advocacy for the Institute and for the projection of the Dietetic profession.
​To mentor younger ones and provide them direction in the practice of Dietetics profession
​To adjudicate over issues and settles scores within the council and the Institute.
To assist in raising funds for the Institute
To interact closely with the Executive Council and know the situation of things that are on ground
​To come up with ideas on how to project the Institute and the profession of dietetics
​To be involved in the disciplinary action of members
​To formulate and review policies of the Institute
To consider annual reports of Council, etc.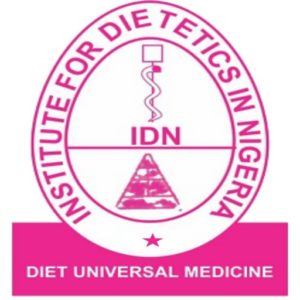 Body of Fellows of the Institute
The current Fellows of the Institute for Dietetics in Nigeria are as follows:
Mrs. Elizabeth Olugbolahan Palmer
Prof. Tola Atimo
Prof. Tunde Oguntona
Prof. Oluremi Keshinro
Mr. Sam Yuwa
Group Capt. Isaac Madaki (Rtd)
Prof. Elizabeth Chibuzo
Prof. Grace Fadupin
Mrs. Theresa Akpan
Mrs. Sarah Abagai
Hajia Dije Kabara
Mrs. Funmi Odewale
Mallam Abdulkadir Abdulhadi
Mr. Tajudeen Olutope Ahmed
Dr. Rachael Ramotu Fakunle
Mallam Salisu Kura
Mrs. Bolanle Omowunmi Tijani
Mrs. Keturah Kachidi Onugha
Prof. Ignatius Akhakhia Onimawo
Prof. (Mrs) I. O. Olayiwola
Mr Gani Ogundausi
H.E. PROF. HAFIZ ABUBAKAR, MFR, D.Sc.
PROF. MOHAMMED KANO ATIKU
HAJIA MARYAM ISA KAITA
MR TUNDE AJOBO
MR JAMIU ABIODUN OJABELLO
PROF. OYEWOLE OYEDIRAN EMMANUEL
DR. SALISU MAIWADA ABUBAKAR
PROF. AHMED UMDAGAS HAMIDU.
NWAFOR SAMUEL MADUKA